Pit Crew -- Members of TRD's engineering team gather around the test rig they developed for testing a supply valve used in medical ventilators.
Toyota Racing Development's (TRD) mission is to push Toyota's vehicle technology to the limit on multiple motorsports fronts. But when a chance encounter presented an opportunity to help combat the COVID-19 pandemic, the team's engineers didn't hesitate to step into that breach, too.
It all started on March 29 when Senior Engineering Manager Steve Wickham received a call from his counterpart at McLaren Racing. The ask: Could TRD help support Spiracle — a small company based in Southern California — that makes a supply valve for ventilators used in the UK? Pre-pandemic, the firm had been churning out this critical component at a rate of 1,000 per year. A government-sponsored Ventilator Challenge UK consortium was requesting several thousand units in a matter of weeks.
A day later, TRD President David Wilson had mobilized a team to reach out to Spiracle with the blessing of Mike Bafan, group vice president of the Manufacturing Project Innovation Center who took charge of Toyota's COVID outreach efforts throughout North America.
Still, Wilson was careful not to overcommit. Toyota makes vehicles, not medical devices. But perhaps TRD could guide Spiracle's team in adapting Toyota Production System principles to help make it possible to dramatically increase its production efficiencies.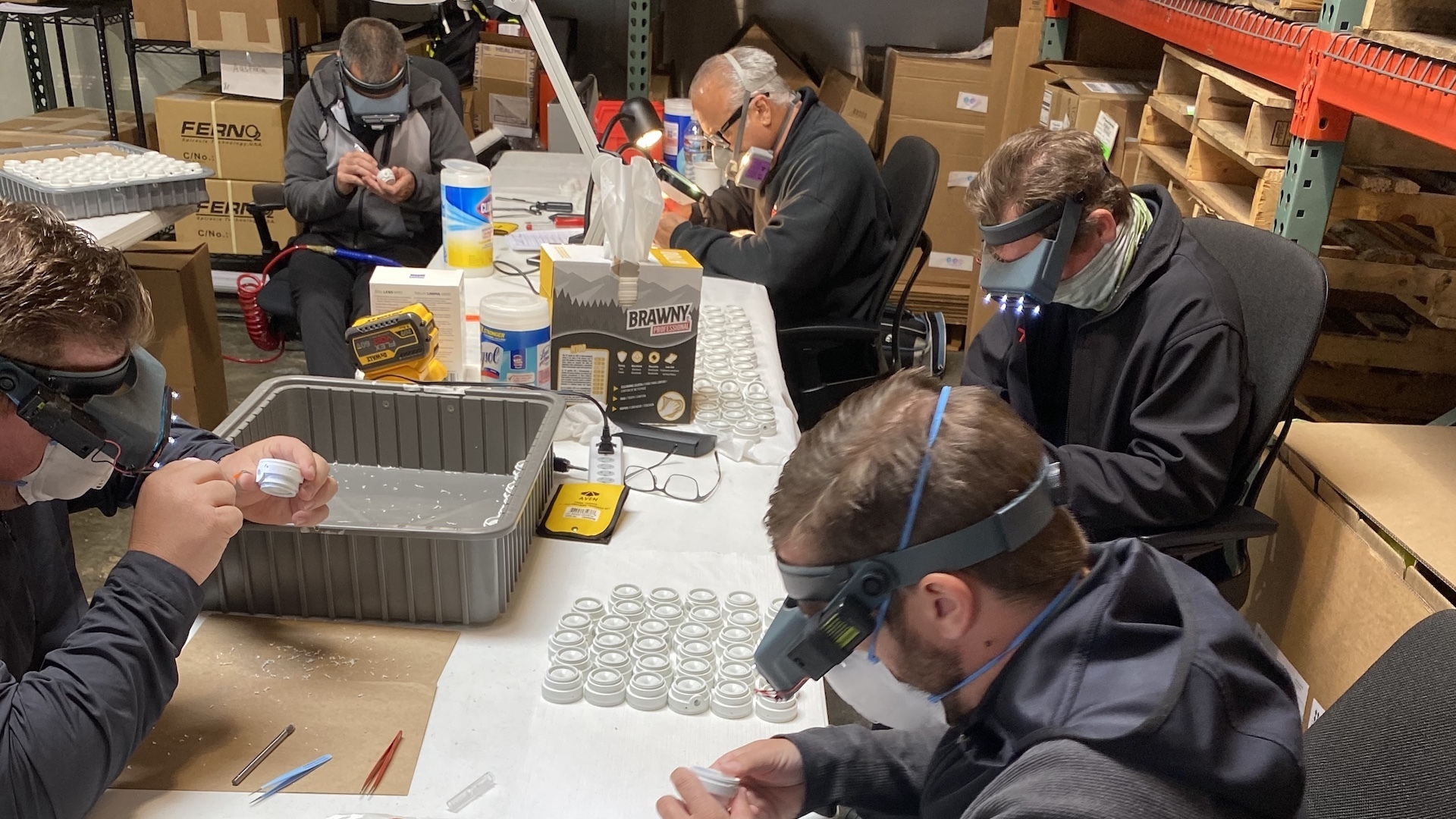 Digging into the Details — For TRD, participation in the Ventilator Challenge UK was very much a hands-on experience.
A Better Mousetrap
The first step was to dispatch a team of engineers and technicians to the supplier's facility in Los Alamitos, California, to get up to speed on their operations. TRD quickly surmised that the production bottleneck wasn't the supply valves themselves, but the rig used to test them before they could be certified for use in ventilators. Spiracle didn't have complete technical documentation on the test rig. So TRD took one of the units back to its workshop and set about reverse engineering it.
"Basically, we used our design expertise to try to build a better mousetrap," says Wilson. "The test rig we built is quite a bit better than the original. When we find kaizen opportunities, we're not about to not make improvements. It's the kind of thing we do every day. We get a challenge thrown at us and then, under pressure, try to come up with a solution as quickly as possible."
Over the course of approximately five weeks, TRD team members built and dispatched a total of 12 test rigs to Spiracle and others in the UK consortium.
In addition to refining the design of Spiracle's test rig, TRD also consulted with the firm on how to restructure its supply chain to increase its throughput. It also wrote an assembly manual for the supply valve, which Spiracle used as the cornerstone to a training program to help get new hires up to speed quickly. That was also critical as the firm needed to more than double its workforce, virtually overnight, to meet the increased demand for its component.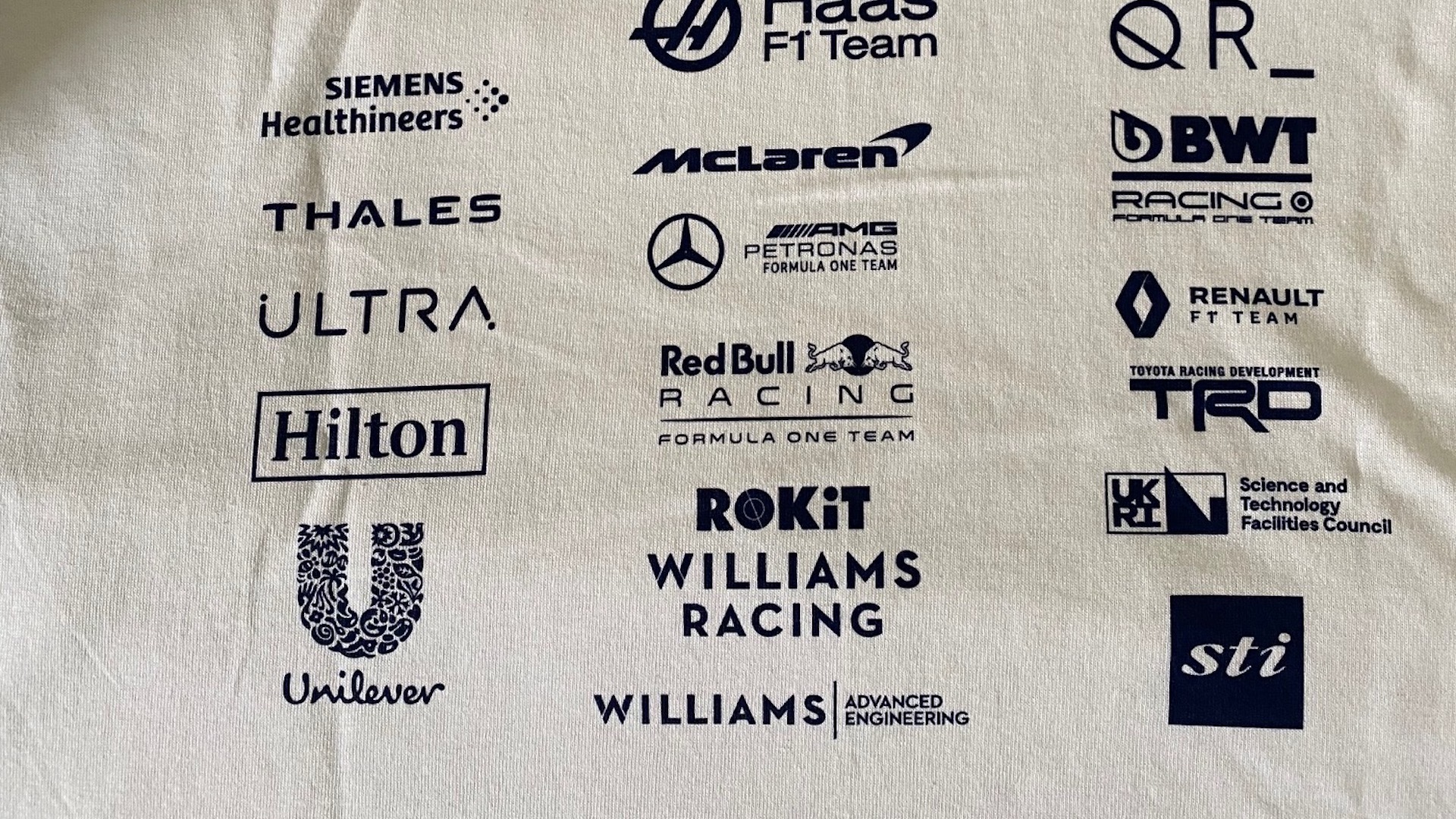 Token of Appreciation — Here's just some of the corporate logos that appear on the back of a thankyou T-shirt distributed to all of the volunteers who participated in the challenge.
An Emotional Experience
Thanks to TRD's assistance, Spiracle was able to provide its piece of the puzzle in the quantities required. Several other UK-based firms also stepped up the pace, leading to the production of more than 14,000 medical ventilators by the time the UK Challenge had run its course in July. All told, some 50 TRD team members donated approximately 4,900 hours to the initiative.
"The UK government sent a T-shirt to everyone who worked on this to commemorate the achievement," says Wilson. "On the back is a list of all of the companies that participated, including TRD. It was a terrific morale booster for our team members. This was an opportunity to extend ourselves and make a difference in a much bigger way than simply going racing."
Meanwhile, Wilson is confident that Spiracle — a family-owned business with just seven employees — will never be the same either.
"The owner says he had no idea how he was going step up to the demands that were placed on them basically overnight," says Wilson. "He was literally praying for help. And then there was a knock on his door and it was Toyota there to offer its help. It was quite an emotional experience for everyone involved."
By Dan Miller