Signs of the Times -- This entry checkpoint at Toyota Motor Manufacturing, Texas is an example of what has become standard operating procedure at TMNA's North American plants.
Over the course of her 29-year career at Toyota, you would think Denita Wilhoit had seen it all. But she'll readily admit that COVID-19, and the depth and breadth of change it has already left in its wake, is without precedent.
"How many people can say they've worked through a pandemic in their career?" says Wilhoit, vice president of Corporate Shared Services for Toyota Motor North America (TMNA). "Then again, I've never seen so many people across multiple departments collaborate on the response. It's been very special to be a part of this, even if it is for a very unfortunate reason."
Wilhoit is just one of the many team members in Human Resources, Corporate Shared Services, Corporate Security, Business Resiliency, Corporate Communications and ITx as well as key leaders of the business pillars — both manufacturing and non-manufacturing — who have joined forces to help guide the organization through this crisis and set the stage for what will follow once we're finally past it. It's a journey that began in January when reports of the impending threat first surfaced in the media, shifted into high gear in March when many communities mandated strict lockdowns, entered a new phase in May when TMNA's manufacturing plants began to reopen and will continue at least through December when protocols and procedures to maintain some semblance of a steady state will be reevaluated.
All of the above have coalesced under the banner of Safe@Work. In very short order, the teams implemented incident management protocols and processes for medical management, including a free nurse hotline and protocols for entry, sanitization and social distancing. Simultaneously, crisis communication actions were put in place to monitor team members' comfort level with the new protocols, provide leadership development and support for remote work, deliver timely updates on campus changes and make available other resources to help everyone adapt to the new environment.
The overriding objective: to maintain a high level of productivity without compromising safety and security. The means to that end, of course, vary depending on the demands of the job.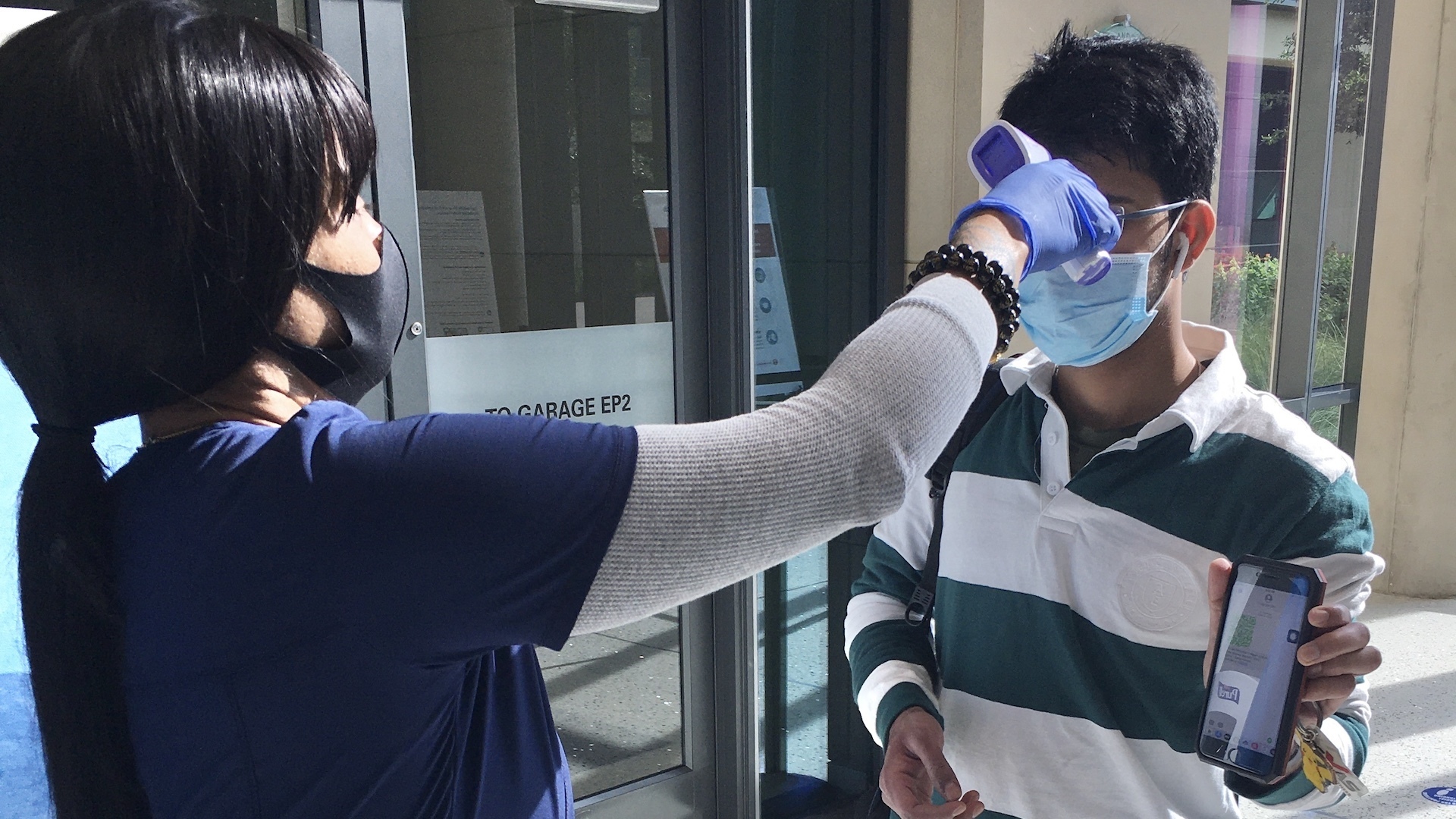 Three-Point Play — A team member gets a temperature check before entering TMNA headquarters in Plano. Completing a wellness questionnaire and wearing a face covering are also required elements of the protocol.
A Blended Approach
So, for example, if you work at a plant, odds are you need to go inside a physical facility on a regular basis. But before you pass through the door, you must complete a three-point check-in process comprised of completing a wellness questionnaire, getting a temperature check and wearing appropriate personal protective equipment.
However, if you normally work in an office setting, you may well be encouraged to continue fulfilling your duties from home if feasible. There are exceptions to this rule. For instance, Wilhoit estimates there are about 400 team members and business partners onsite at TMNA headquarters on a daily basis. Like their manufacturing counterparts, they must submit to the same check-in requirements and must wear a face covering throughout their time indoors.
"We call it a blended approach," says Wilhoit. "We will accommodate those people who need to come into the office or who prefer to. But for most people, working from home will be the status quo for the foreseeable future."
Meanwhile, others on the Safe@Work team have ramped up training and support for what — virtually overnight — has become a radically different way to do business. That includes suggesting new strategies for managers who are accustomed to having their colleagues close at hand. And it includes guidance for team members who must learn how to nurture a sense of camaraderie via their computer screens rather than huddled around the office watercooler. Resources are available to you if you need them.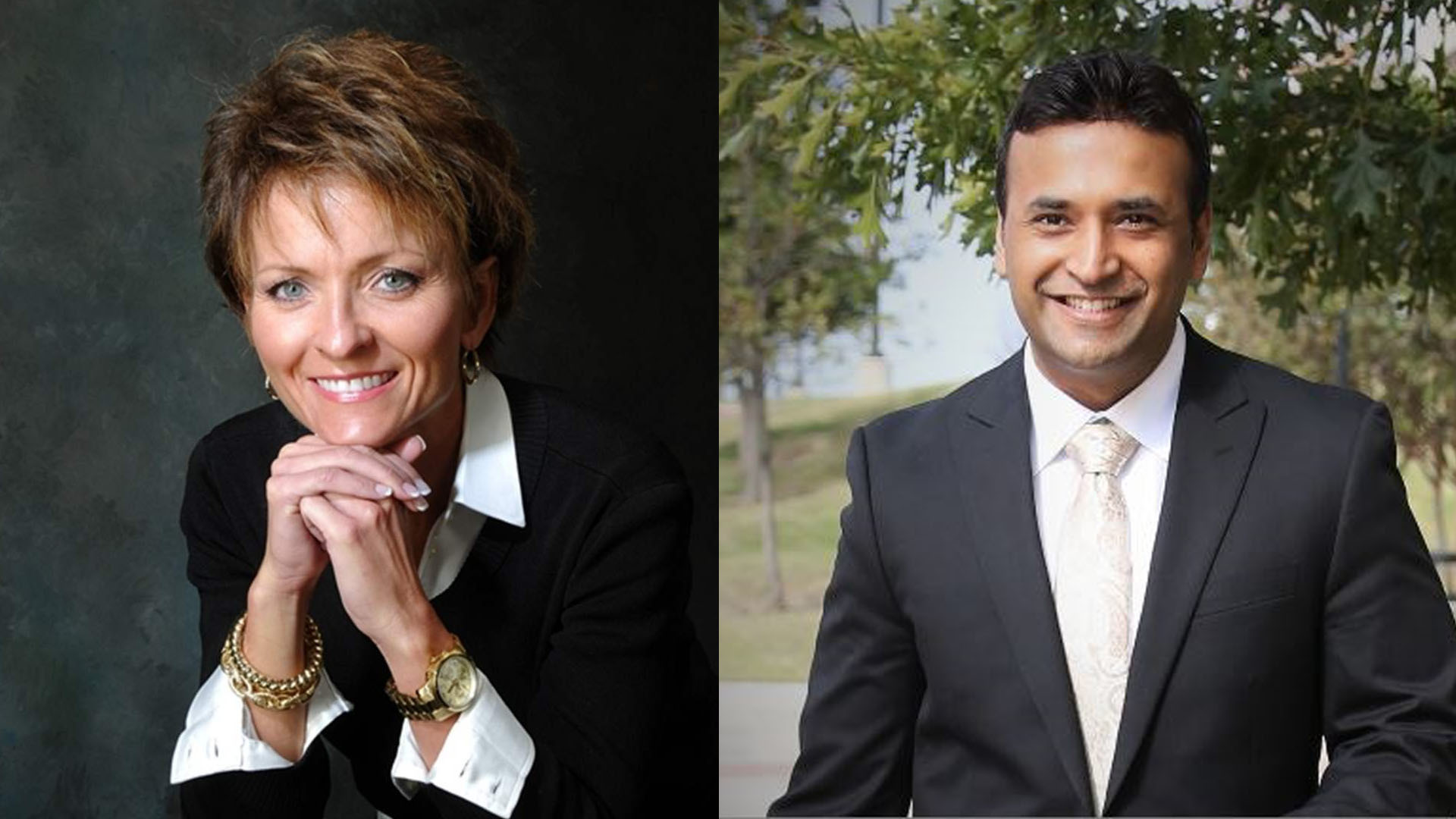 A Collaborative Mindset — Denita Wilhoit and Kash Pervez are just two of the many team members who have joined forces to chart the organization's way forward during these unprecedented times.
An ITx Acceleration Team
Establishing new policies is one thing. Developing and implementing the tools to support them is quite another. That's where ITx has played such a critical role, staying abreast of best practices and collaborating with the business groups to achieve everyone's shared outcomes.
Much of this work has been carried out by a cross-functional ITx Acceleration Team, led in part by Kash Pervez and Trever White.
"We pulled together three small teams to focus on manufacturing, non-manufacturing and emerging technology — working hand in hand with the business groups to come up with solutions together," says Kash of ITx Digital and Corporate Experiences. "There have been many long days and late nights sorting through everyone's ideas and evaluating technologies that might be useful at Toyota. If there wasn't anything off the shelf that fit our needs, we created it internally. We know our systems end-to-end, so often we can implement solutions in-house much more quickly than if we were to go with a third-party vendor."
Amid all of this change, the same question is likely in the back of everyone's mind: Will things ever return to normal? The Safe@Work team is keeping a close eye on that, too.
"It's amazing to be a part of this," says Wilhoit. "In many ways, it's like we're living through a forced experiment, where we're embracing new ways of working that otherwise might have taken years to develop. When this is over, and it will be over, I'm excited to see what we'll be able to do. I've never experienced so many people joining in unison to try to ensure we have the processes and structures in place to support our team members and the business. I truly believe that, when it's all said and done, we will raise the bar of what we are capable of."
By Dan Miller