Key Component -- This Chicago-area Parts Distribution Center is one of 16 in TMNA's unfied parts supply chain.
Synergy. Collaboration. Integration. Innovation. All buzz words that management consultants love to say without, in the end, saying very much.
But every once in a while, they really do pack a punch.
Case in point: TMNA's unified North American parts supply chain. PSC, as it's known internally, marked its first full year of operation earlier this year. It's a significant accomplishment of the One Toyota era — substantially reducing logistics costs, increasing efficiencies end-to-end across our vast supply chain, and better serving our customers.
"This isn't just about people sitting next to each other," says Alok Vaish, group vice president of Parts Distribution and Accessory Development. "It's about really understanding what's needed and how to get it done. It's about getting together and exchanging notes to come up with creative solutions. This is true synergy."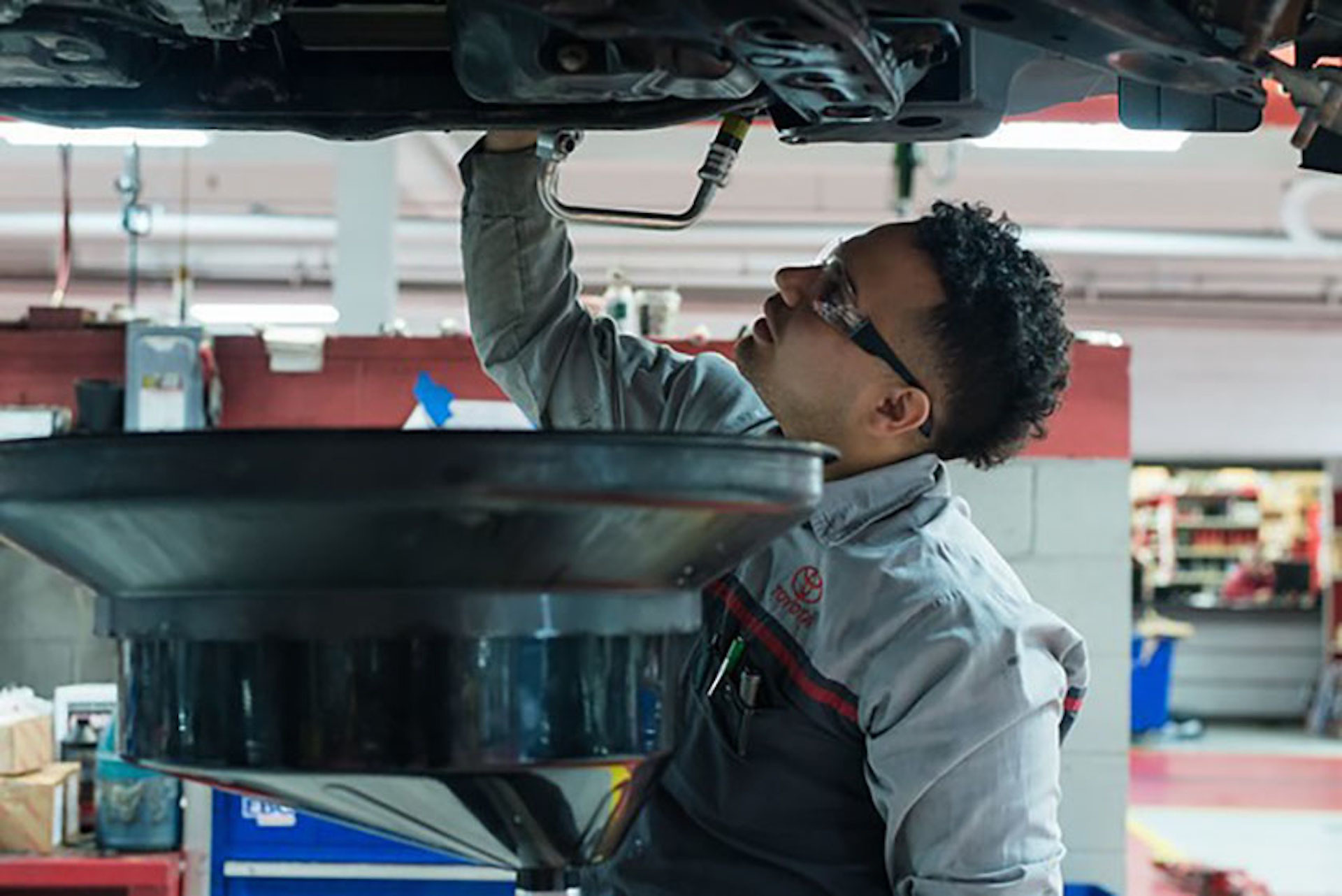 Customer Facing – This technician at Fitzgerald Toyota in Gaithersburg, Maryland, is one of thousands who rely on TMNA's parts supply chain to help keep their customers' vehicles well maintained.
'We Need to Make This Happen'
Twenty years ago, this new reality was little more than a dream when the wares of Toyota's parts suppliers flowed along two separate streams. One fed the company's North American manufacturing plants — managed by Toyota Engineering & Manufacturing North America (TEMA), the builders of Toyota and Lexus vehicles. The other — managed by Toyota Motor Sales (TMS) — ensured the more than 1,800 North American Toyota and Lexus dealers had the replacement parts they needed to keep their customers moving forward.
It was recognized for many years that the split configuration represented a duplication of effort, especially given that they shared many of the same parts suppliers. But they were never quite able to bridge the physical and cultural divide between manufacturing and sales to merge the two supply chains into one.
That began to change in December 2014 as One Toyota started to become a reality at TMNA's temporary headquarters in Plano.
"Once we co-located, we could dialogue with one another face-to-face. Before, we were always at arm's length," says Neil Swartz, the recently retired vice president of PSC Operations (PSCO). "We pretty quickly identified more than 20 areas for potential integration. Everyone agreed parts logistics was the one that offered the greatest potential benefit. It represented our biggest cost."
"That was the kickoff," says Steve Brown, vice president of PSC Planning (PSCP). "But we needed another year or so after we'd all made it to Plano to stabilize our operations. By mid-2017, though, the process of integration really began to shift into gear. Before the move, if we encountered hurdles, we tabled the idea. But this time, the mindset had changed. It was more like, 'No, we need to make this happen.'"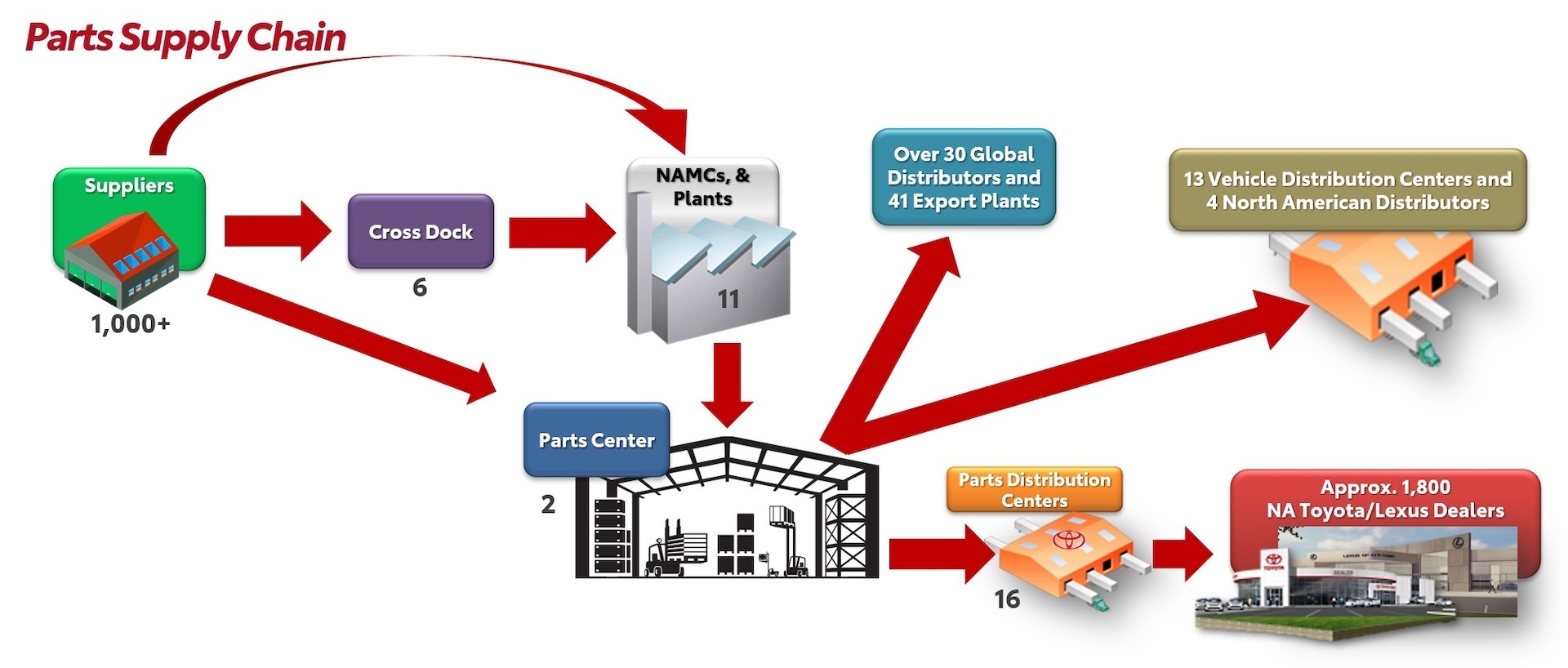 Go with the Flow – This graphic represents the new unified parts supply chain that manages the flow of over 400,000 parts and helps generate over $5 billion in revenue for TMNA annually. Parts produced by suppliers flow to manufacturing locations and the parts distribution network that supports Toyota and Lexus dealers as well as domestic and global distributors.
Digging into the Details
And they did. Vaish says one key to success was the decision to rotate senior managers from the two prior organizations into each other's roles so they could more fully understand what was required. If the PSC organization had been solely a top-down edict, it likely would have failed. The devil, as they say, is in the details.
And a unified parts supply chain is all about the details. It must:
Manage the parts and accessories needs of all Toyota and Lexus vehicles sold and/or produced in North America;
Maintain world-class customer service;
Partner with more than 1,000 parts suppliers;
Keep track of over 400,000 orderable part numbers;
Serve as a global pole for parts supply to North American distributors as well as 30 export distributors.
One year after its official launch, all signs suggest this massive experiment in consolidation is working — to the benefit of all key stakeholders. Gains of note include shorter delivery lead times, reduced parts backorders, streamlined procurement methods and — most importantly — an even better customer experience.
Along the way, the organization is finding new ways to leverage technologies and expertise across operations. For example, the former TEMA team brought along engineers who specialized in parts packaging. That's a role TMS previously delegated to its suppliers. Now, in the new unified reality, packaging is handled entirely in-house.
The One Toyota Mindset
Meanwhile, Vaish, Swartz and Brown note that their teams have learned new skills that will pay even bigger dividends in the long run.
"This isn't just about the dollars saved. It's about the development of our people," says Swartz. "This experience has made all of us better problem solvers. That's critical as we continue to kaizen the supply chain."
This same mindset continues to hold true under the leadership of PSCO's new vice president, Mike Schober.
And that's before factoring in the impact this success will have on other groups across TMNA. If an operation as vast as parts supply can do this, they all can.
"This is the benchmark for One Toyota," says Vaish. "When you set your mind on creating true integration and synergy, you really can build a better company."
By Dan Miller