In the book Art of Lexus, Akio Toyoda says the IS "really taught me what performance driving was, and it was the moment my love affair with Lexus began."
If that's true, then the next-generation 2021 Lexus IS — unveiled today via an online virtual reveal — seems certain to rekindle the Toyota Motor Corporation president's infatuation for true rear-wheel-drive luxury sports sedans.
Quite simply, this is the most agile and athletic IS yet.
It also aims to blaze a trail for every new Lexus vehicle to follow. That's because this IS is the first iteration of an all-new Lexus Driving Signature [link to listicle]. Its objective? To deliver a new generation of Lexus vehicles that are more balanced, refined and confident than ever before.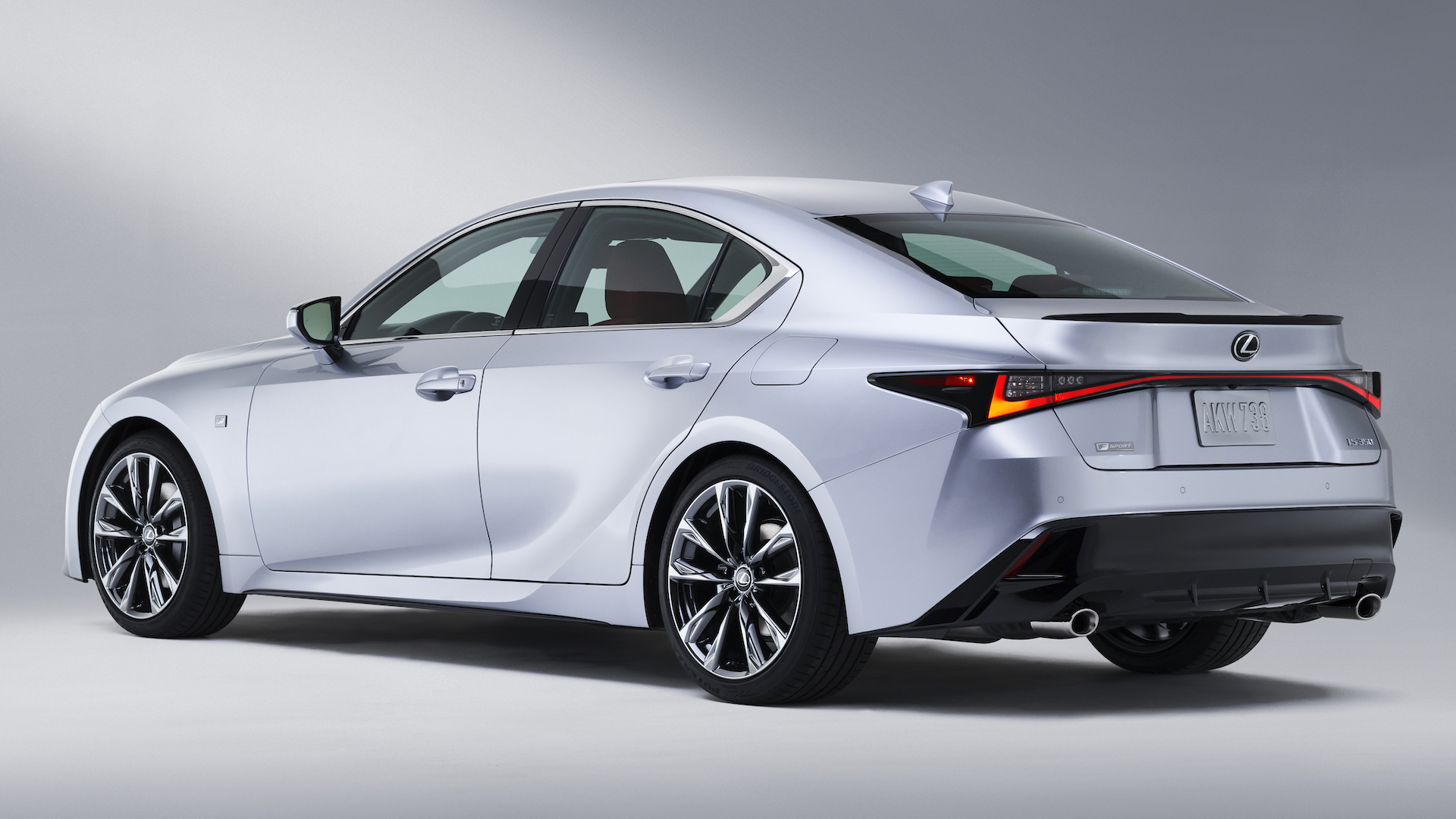 Love at First Drive – The new IS aims to be the first of what promises to be a new generation of Lexus vehicles that are more balanced, refined and confident than ever before.
So, there's a lot riding on this all-new IS. But it doesn't have to carry the weight of these lofty expectations entirely on its own. Lexus International Chief Engineer Naoki Kobayashi had full use of the company's Technical Center Shimoyama to transform the Lexus Driving Signature from concept into reality. Opened in 2019, this state-of-the-art 3.3-mile test facility near Lexus' global headquarters incorporates a wide range of curves and corners, multiple types of road surfaces and a nearly 250-foot change in elevation. Kobayashi and his team spent countless hours there, putting their work-in-progress vehicle through its paces.
When Lexus says it's driven by a "relentless pursuit of perfection," this is what it means.
"What we had foremost in mind in developing the new IS was to make a car that excelled in communicating with the driver, regardless of the road conditions or driving status," says Kobayashi. "We aimed to make the new IS a Lexus compact sports sedan that provides high-quality riding comfort while offering a high level of vehicle control."
Or, to distill that down to one word, Kobayashi wanted to make an IS that is FUN!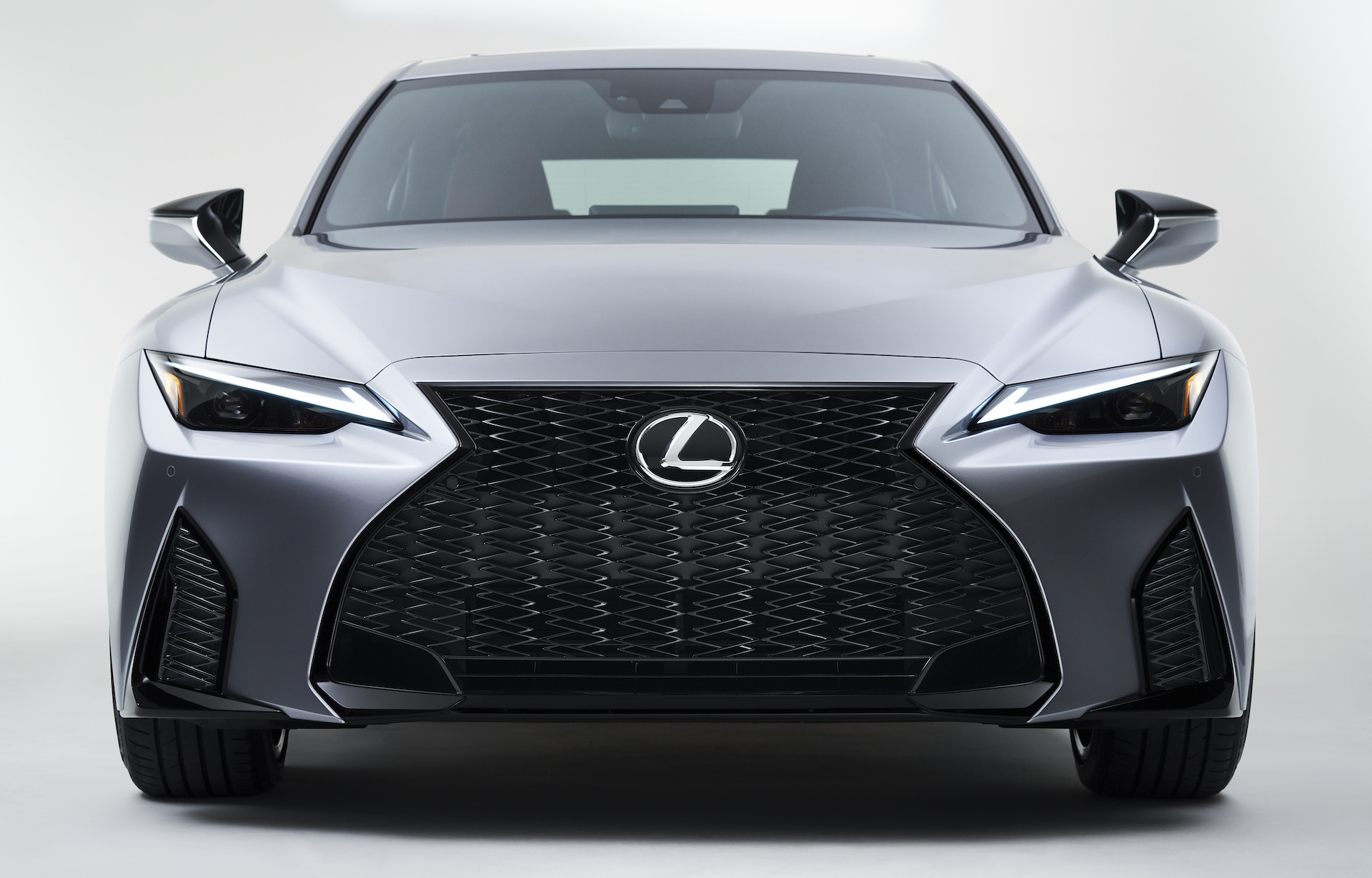 Form and Function – Among the F SPORT's many distinctive visual cues is a unique front bumper with functional aerodynamic enhancements.
How did he go about it? Compared with the current IS, this new generation offers:
Enhanced body rigidity — Lexus' engineers reinforced the vehicle's radiator side supports, increased the number of front-side-member weld points, and employed more robust, ring-shaped reinforcements to the C-pillars. These and other modifications have given rise to an IS with less noise and vibration while improving ride comfort, driving performance and steering input.
Bigger wheels and tires — Standard issue wheels are now 18 inches in diameter (up from 17 inches on the current IS), and 19-inchers are available. To accommodate the beefier rims, Lexus' engineers revised the IS' suspension layout and front pickup points. The net effect is improved cornering force and a larger contact patch with the road.
Reduced unsprung weight — By adopting new designs and materials, the engineers were able to create suspension components such as coil springs, A-arms and stabilizer bars that are up to 20 percent lighter. When combined with new swing-valve shock absorbers that can adjust to even minor irregularities in the road, the result is a more consistently even ride quality.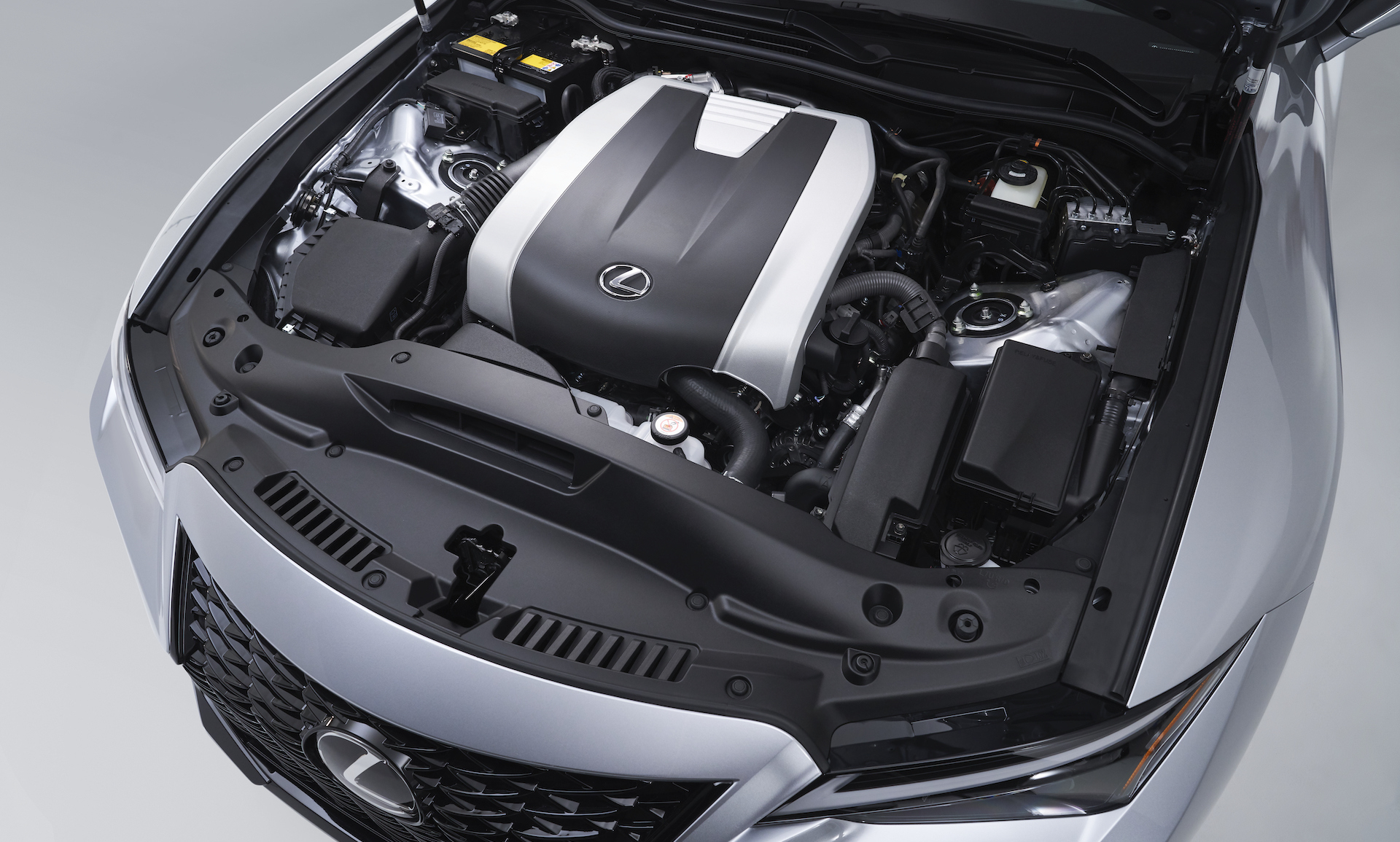 Power Play – This engine, at the heart of the IS 350 and IS 350 F SPORT, can generate up to 311 horsepower and 280 lb-ft of torque.
A choice of powertrains — The rear-wheel drive IS 300 is propelled by a 2.0-liter, turbocharged and intercooled inline four-cylinder engine that can generate up to 241 horsepower and 258 lb-ft of torque. For added traction, there's the IS 300 AWD which mates a 3.5-liter, v6 engine with an electronically-controlled all-wheel drive system. Maximum output is 260 hp and 236 ft-lb of torque. And then there's the IS 350 and IS 350 F SPORT, available in either rear-wheel or all-wheel drive configurations. It pumps up the power to 311 hp and 280 lb-ft of torque. The F SPORT grade ratchets up the performance even higher with such tweaks as a cool air intake and an available Dynamic Handling Package that includes Adaptive Variable Suspension. Bottom line: It's estimated the IS 350 RWD can accelerate from 0-60 mph in 5.6 seconds. Like we said, fun.
An athletic silhouette – Compared with the outgoing IS, the next generation is slightly lower and wider. Its sleek shape is complemented by side and shoulder character lines carved with an aggressive sharpness. Up front, you'll find a newly designed spindle grille as well as new slender headlamps. Around back, the rear fenders blend into the extended, lowered rear deck to contribute to the new IS' more athletic stance. And an L-shaped blade-style lightbar spans the rear of the vehicle, emphasizing its wider stance.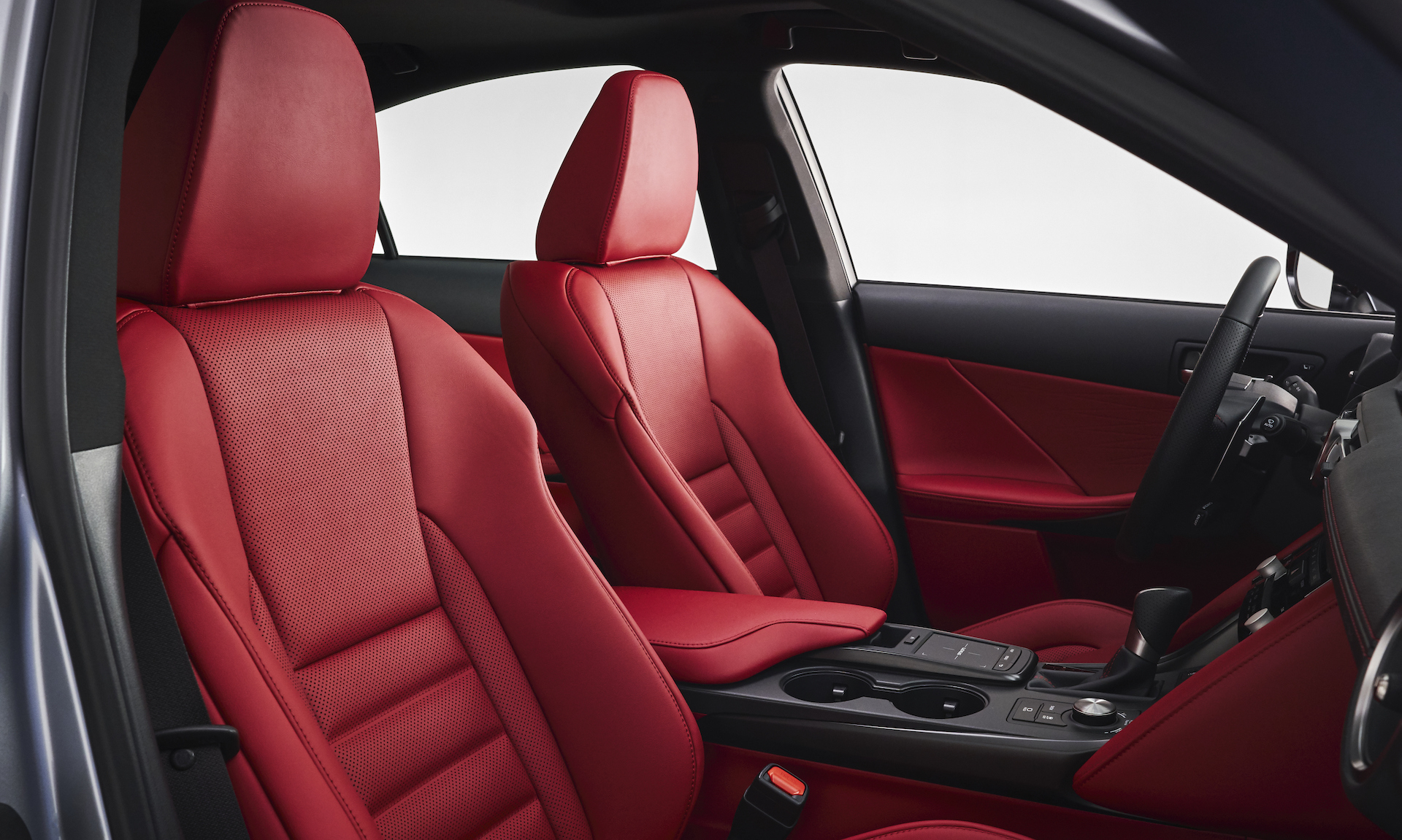 The Red Zone – The F SPORT interior is offered in three color palettes: Circuit Red (shown above), Black and two-tone White/Black.
An interior that exudes luxury and performance — Take, for example, the standard NuLuxeÒ trimmed seating with 10-way power driver and 8-way power front passenger seats. Or how about an expansive array of multimedia options — such as Apple CarPlayÒ compatibility, Android AutoÒ compatibility and Amazon AlexaÒ integration — that can be accessed via a new standard 8-inch touchscreen or the expansive new 10.3-inch touchscreen available on vehicles with navigation? In addition, all new IS grades come standard with a three-year trial of Lexus Enform Safety Connect. That includes use of the Lexus App, that allows you to start the vehicle remotely from a smartphone, contact dealers for a service appointment, and much more.
An enhanced Lexus Safety System+ — The new IS gets the latest version of Lexus' suite of active safety technologies bolstered by a new single-lens camera and millimeter-wave radar that expands the response range. That means, for instance, that the Pre-Collision System is designed to detect a daytime bicyclist and a pedestrian in low-light conditions. Also, the All-Speed Dynamic Radar Cruise Control can be activated above 30 mph. It's also designed to perform vehicle-to-vehicle distance controls down to 0 mph and can resume from a stop. Oh, and the 2021 IS will include Blind Spot Monitor and Rear Cross Traffic Alert as standard equipment.
Look for this all-new IS, and its innovative Lexus Driving Signature, to make its debut in dealerships in late fall.
Hungry for more details and photos? Click here to feed your appetite [link to press release on Toyota USA Newsroom]
By Dan Miller