In early April,
we shared a story
featuring more than one dozen dealers giving back as the COVID-19 pandemic hit their communities. Just a few weeks later, there are even more stories of dealers doing good.
Getting Creative: A TikTok Video Challenge
Dancing for a Cause -- General Manager Mylas Copeland and other Green Toyota employees show off their dancing skills as they utilize TikTok to help community members with a video challenge.
Green Toyota in Springfield, Illinois has challenged residents to submit videos of themselves dancing for the chance to win up to $500 for their next vehicle payment.
At the end of the challenge, weekly winners will then take part in the ultimate dance-off for a chance to win the use of a Toyota vehicle free of charge for a year period.
General Manager Mylas Copeland says he hopes the TikTok contest brings families together for a fun and creative project while also giving them a chance for some financial relief.
And the other reason he chose a dancing video challenge? Well, as one can see in
these TikTok videos
,
Copeland, his family and dealership employees aren't just fans – they're also dancing participants.
You can view weekly submissions and help pick winners by voting on the
dealership's Facebook page
.
Re-Creating Jobs and Giving Back
With countless service-industry workers furloughed or unemployed as restaurants and bars have closed or minimized their services, the
Denver Toyota Dealers Association
(TDA) donated $50,000 to a cross-functional coalition called
Colorado Restaurant Response
(CRR).
CRR was created by Colorado restaurateurs and other partners to re-hire restaurant workers to prepare and distribute meals to unemployed service workers and families in need. The group uses unused kitchens at shuttered restaurants to prepare the meals.
Deck Hughes, president of TDA, said the group of six Toyota dealerships from the Denver/Boulder area wanted to join the cause because it not only helps a struggling industry but also "an entire community of people who otherwise may not have a meal today."
Since CRR was launched at the end of March, it's distributed tens of thousands of meals, distributing 2,000 a day with the aim of growing to 5,000 meals a day.
More Dealers Doing Good: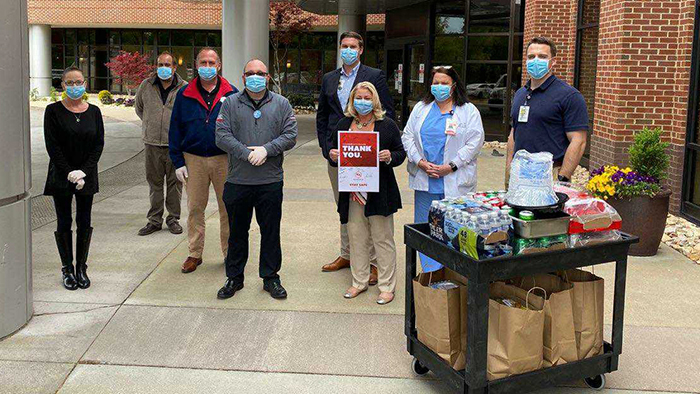 A Big Thank You –
McGeorge Toyota employees helped deliver 85 meals to the Henrico, Parham & Retreat Doctors' Hospitals.
McGeorge Toyota (Henrico, Virginia)
and its team members have picked up the ball and helped in numerous ways. The dealership has donated $20,000 to Feed More, a Central Virginia hunger-relief organization. The donation amount translated to about 80,000 meals.
And Mike Secours, an employee at the dealership, teamed up with a local artist to design buttons in support of frontline health care workers. The buttons, which read "Our Heroes, We Thank You," have been passed out at the dealership at no cost to those who want to show their support.
The dealership is also offering six months of payment relief to eligible customers affected by COVID-19.
Toyota of Muncie (Muncie, Indiana)
is offering first responders $500 off the purchase of a new or pre-owned vehicle.
And in March, the dealership gave complimentary oil changes over a two-day period to people affected financially by COVID-19. Those they couldn't service that day were given vouchers to be redeemed at a later date.
Evans Toyota (Fort Wayne, Indiana)
donated $500 to local charities, which were chosen by their Facebook followers, every time they sold a vehicle over a three-week period.
The dealership has also created exclusive hours for senior citizens.
Palestine Toyota (Palestine, Texas)
,
Philpott Toyota (Nederland, Texas)
and
Toyota of New Bern (New Bern, North Carolina)
are among numerous dealerships across the nation providing complimentary sanitation of automobiles to first responders and health care workers.
Sheehy Lexus of Annapolis (Annapolis, MD)
held a blood drive at their dealership in early April. About 50 people donated blood and the event was so popular, the dealership plans to hold another blood drive in the near future.
Lexus of Akron-Canton (Akron, Ohio)
is giving a 10 percent discount on any vehicle service to Akron Children's Hospital employees. The dealership is offering the employees free pickup and delivery for service/maintenance and cleaning and sanitation of serviced vehicles.